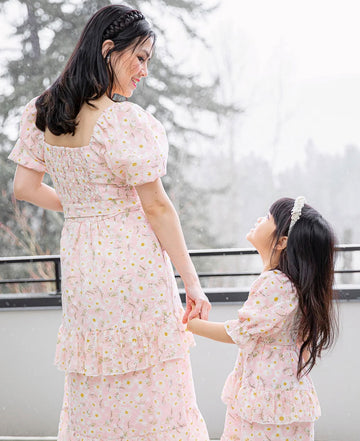 Our Story
Mome focuses on making dresses that are beautiful, comfortable, and functional. Feminine prints, floral patterns, and sweet ruffles all adorne the handmade collection to create one-of-a-kind and limited stock pieces.
All of Mome garments are designed with women, especially moms, in mind. Our dresses are customized for every step of a woman's life and flatter her changing, beautiful body ~ before, during, and after pregnancy. Every piece is designed to help you feel the most confident and beautiful.
CONTINUE READING
"The quality is phenomenal, way beyond what I expected! It is 100% cotton and the fabric is so soft and dreamy. Fully lined. And pockets!! I am seriously obsessed. So feminine and whimsical but also practical for my life with a toddler!"
"I love this dress!! It's so flattering, the sizing is incredibly on point, the customer service is awesome, and I get so many compliments on it. I will be buying many more pieces from this brand."
"1000 stars! I LOVE everything about this dress! The print, puff sleeve, ruffle, style, feeling of the fabric, the length, that it has pockets, stretchy enough to make breastfeeding easy. It's now one of my top favorite dresses and was worth every dollar!"