"Mome dress with nursing zippers has everything you could ever possibly want in a dress-pockets, quality fabric, flattering style, comforting fit-PLUS nursing zippers that make discreetly nursing in public possible, without sacrificing style. My non-nursing friends have asked where I got this dress so they can order one too--it's that beautiful! And the zippers are truly hidden so no one suspects it's a nursing dress. I have nursed my baby on the go in the dress without a nursing cover, and no one suspects a thing! As a mother of a baby who hates nursing covers, I am forever indebted to this company for this invention!."
"Finally, a nursing dress I feel like myself in! I noticed the quality of the fabric right away, which was refreshing because so many nursing dresses feel low quality. The silhouette is fitted yet comfortable. It's very easy to use the zippers, and most importantly, they're discreet! This dress checks all the boxes for the perfect nursing dress. Highly recommend!"
"The nursing zippers on this dress are brilliant and so easy to use! I am an advocate for extended breastfeeding but hate that my wardrobe is limited by it. This dress makes me feel like myself again, it's a style I would've worn before having kids and I will continue to wear it after weaning. I've received so many compliments when wearing it and love to recommend it to other nursing moms."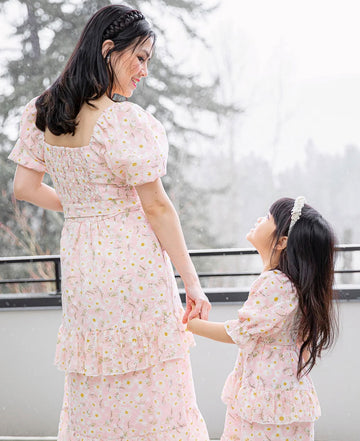 Our Story
At Mome, we're committed to support women on their motherhood journey by helping them feel beautiful and confident with carefully designed, quality clothing that fits the needs of on the go women who don't want to sacrifice style for function.
CONTINUE READING